August 7, 2019
J-1 Worker Profiles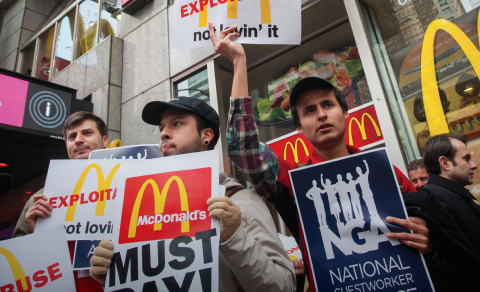 J-1 programs are intended to encourage cultural exchange and learning, however, people report cases of abuse, labor exploitation and human trafficking. Like other J-1 programs, the Summer Work Travel program offers few protections to workers. Here are some first-hand accounts from J1 workers in Ocean City, Maryland. Workers have asked to remain anonymous due to the risk of retaliation.
"My agency fees were $1,800 to do the program. But you need to pay housing fee ($250) and a house deposit ($250). Also your visa appointment is $170 and then your flight is $300. So, if we add everything up it's a total of $2,750. Yes, I did take out a loan for $2800, which is why I work a lot. I go to church for free food and meals, so I can save some money on groceries and food. I cook my meals because is cheaper and I am sure that I'll like it. In my house I live with at least forty other people, there are so many of us living together, it's hard to know how many exactly. I feel safe, but I'm kind of afraid of getting my stuff stolen from me, like food or money. The housing is my biggest regret. We have no windows, it's very humid in my room and because there's so many people, most of the common areas are dirty most of the time. I work three different jobs, and I'm not working full time with any of them. One job I work three days a week, the second I work the night shift two days a week and the third job six days a week in the morning. One job I get paid $10.10/hr, I make $12/hr for my second job and $11/hr for my third job. The hours amount may vary depending on the week. I'm a hostess, playground attendant and groceries stocker."
------
"I had to pay $1850 to the agency, but the whole program cost about $4000. Yes, I go to the church for food, because it's quite expensive. I've never lived with so many people, there are eight of us living together. Right now I only have one job, and I work six hours a day paid at $3.63 as server. I don't get paid overtime because I only work 24 or 25 hours a week, even though in the contract it said that I was going to work 32 hours."
------
" I work as a housekeeper at a hotel which is my second job. This isn't the job I was offered when I first was recruited. Sometimes I do things outside of my job role, like training other employees, things that a manager should do. I had to get a second job because my expenses are very high and I have a lot of debt. I earn $10.10/hr as a housekeeper, and $11.10/hr at my first job."
-----
"I paid about $2000 to the agency. I have one one job where I work about 38 hours a week and make $9/hour plus tips."
-----
Workers can take action, if they believe they or someone they know is a victim of trafficking, by calling the National Line Against Trafficking at 1-888-373-7888. The call is free and lines are open 24 hours a day, 7 days a week.