May 6, 2022
Are you a migrant worker looking for healthcare services close to your location in the United States? Don't worry, you're not alone! Call for Health can help.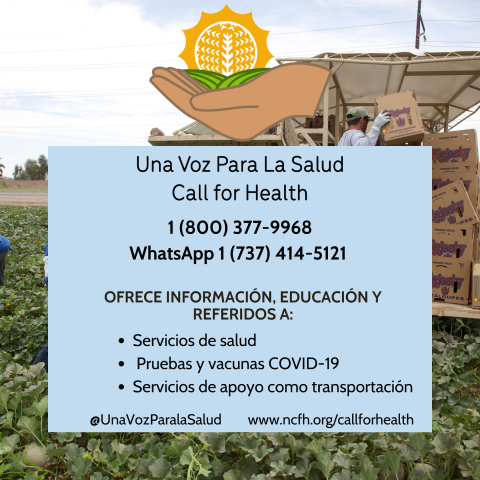 Call for Health (NCFH, Call for Health) is a private nonprofit organization located in Buda, Texas. It is a bilingual program with national reach, established by the National Center for Farmworker Health in 1997. This organization dedicates itself to improving the health of farmworker families by providing information, training, technical assistance, and a variety of other services, along with access to Community Health Centers and Migrant Health Centers in the United States, and also provides these services to organizations, universities, researchers, and others who work in areas related to farmworker health.
The Call for Health program has provided assistance to farmworkers since 1997, helping them locate healthcare services in all of the United States and Puerto Rico.
If you work or previously worked in agriculture, you can contact them in order to:
Receive information and education about health

Locate resources related to healthcare services and COVID-19 tests and vaccines

Limited financial assistance for health services, including; specialist services, dental treatment, vision-related treatments, among other financial services.

Interpretation services for people who are or have been farmworkers.

Find help to overcome barriers to accessing medical care and COVID-19 vaccination, for example: scheduling an appointment in the United States healthcare system.
Don't forget to take a look at the educational materials created by Call for Health on the following topics: adolescents and sex, family planning, rules for eating healthy, high blood pressure, skin diseases, injuries at work, heat illness, alcohol and children, diabetes, allergies, arthritis, asthma, children's health, dental care, tips to reduce blood pressure, women's health, and first aid, among others. You can download and print all of these materials to keep learning about and taking care of your health.
If you or your family member are looking for healthcare or other services, Call for Health is a valuable resource to overcome barriers to medical care and COVID-19 vaccination. Don't hesitate to reach out to them from Monday to Friday, 9am to 5pm Central Time (CT), or leave a voicemail outside of that schedule through the following methods:
Telephone: 1 (800) 377-9968
Instagram: www.instagram.com/UnaVozParalaSalud
Visit us on Facebook, you can find us as Contratados.