Contratados.org is a project of Centro de los Derechos del Migrante, Inc. (CDM). CDM is a transnational 501(c)(3) non-profit migrant rights organization with offices in Mexico City; Juxtlahuaca, Oaxaca; and Baltimore, Maryland. We envision a world where migrant workers rights are respected and laws and policies reflect their voices. With our bilingual, multinational staff and geographical reach in the US and Mexico, we remove the US-Mexico border as a barrier to justice for Mexico-based migrant workers. Visit cdmigrante.org. Special thanks: Rachel Micah-Jones (Executive Director),  Sarah Farr (Justice in Recruitment Project Coordinator), and community leaders from the Comité de Defensa del Migrante.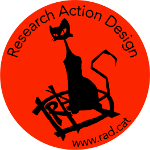 Codesigned with Research Action Design (RAD). RAD uses community-led research, transformative media organizing, technology development, and collaborative design to build the power of grassroots social movements. We are a worker-owned collective. Our projects are grounded in the needs and leadership of communities in the struggle for justice and liberation. More at https://rad.cat. Special thanks: Una Lee (web design), Aylwin Lo (web development), Tim Stallmann (map development) Sasha Costanza-Chock, Chris Schweidler, Bex Hurwitz (RAD codesign team), Koumbit.net (web hosting).

Know Your Rights content by Studio REV-. REV- (as in, to rev an engine) is a non-profit studio where artists, media makers, low-wage workers, immigrants, and youth combine bold ideas and sound research to produce creative media about the issues we face. See https://www.studiorev.org. Special thanks: Marisa Jahn, Anjum Asharia, Andalusia Knoll, voice actors and models.
This project was made possible through the generous support of the John D. and Catherine T. MacArthur Foundation. Additional funding was provided by: the Sunlight Foundation, the Solidarity Center, the Ms. Foundation for Women, and the Columbia Public Interest Law Foundation.
We also thank the musical group Raices for giving us permission to use their music in our educational resources. Follow them on Twitter, Facebook and SoundCloud.