May 12, 2022
Are you tired of searching for information about how to be hired by a U.S. employer or how to apply for a temporary work visa? Get to know El Portal Migrante!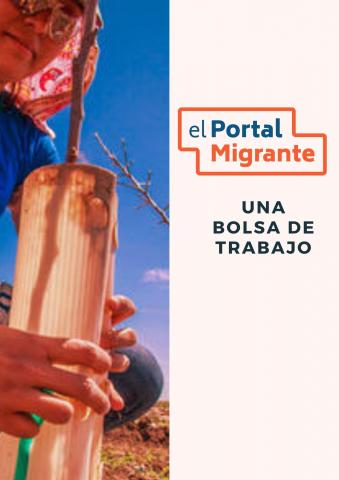 El Portal Migrante, a CDM-led initiative, is an innovative, easy-to-navigate job board that seeks to empower workers to find job opportunities and learn information about workers' rights. El Portal Migrante increases the opportunity for workers in all industries to search for employment opportunities by directly contacting US employers, eliminating the possibility of recruitment fraud. Recruitment fraud is a structural problem in temporary work visa programs that has increased in recent years in workers' communities of origin in Mexico.
The website has two central features. First, workers can search for a job using their interests and work status. The search will lead workers to a list of H-2A and H-2B visa jobs published by the Department of Labor (DOL). The list shows companies and employers who are certified to temporarily employ migrant workers in the United States.
Aside from employer contact information, the listing provides detailed information about the job offer - workplace, salary/wage, type of visa, length of employment and other specific details about the job.
Second, workers can learn and understand their rights in the H-2A, H-2B, and J-1 work visa programs. El Portal Migrante also shares reviews that other workers have published through CDM's companion site Contratados.org about their experiences with U.S. employers and their workplace practices.
Additionally, CDM recently added a chatbot (virtual assistant) named Sol to El Portal Migrante. Workers can find Sol under "Get Legal Help" in El Portal Migrante's main menu. Workers can then choose what topic they would like to learn about or what kind of help they need.
Workers can also select the language they want to use. CDM is continuing to develop El Portal Migrante, and we invite you to visit the website and share your feedback with us. Your opinion is very important as we develop and improve this job bank.
If you are looking for work in the United States and you have used El Portal Migrante, we invite you to share your experience by messaging us on Facebook (@Contratados.org) or by emailing us at contratados@cdmigrante.org. If you would like to verify a potential job offer, please call us at 800-590-1773 from Monday-Friday, 9am-5pm CT.
Visit us on Facebook, you can find us as Contratados