December 27, 2021
Friend navigating the internet: Have you found Contratados.org? Here we will tell you what it is and why it was created.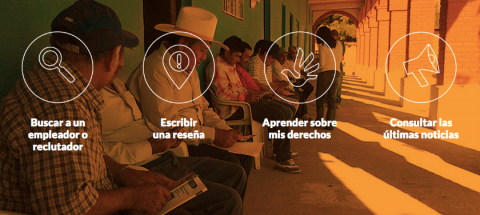 The website Contratados.org is an online tool designed for and with migrant workers. It is a space where migrant workers in any type of work can learn about their labor rights, express their opinions or share their experiences of working in the United States. On Contratados you can share your experience with an employer, a recruiter or a recruitment agency through anonymous reviews. This tool is especially focused on international labor recruitment and temporary work programs, in addition to being a resource where you can learn about your labor rights and the most relevant news about what is happening in United States immigration policy.
It is worth mentioning that Contratados.org is a project of Centro de los Derechos del Migrante, Inc. (CDM), a non-profit organization dedicated to defending the rights of migrant workers who work in the United States, through education and free legal services.
The first thing you should know about Contratados is that that is NOT a job database or a recruitment agency, much less an employer, nor is it a registry of recruiters or companies. Therefore, the invitation to "sign up" is to receive the latest news in your email when we are publishing educational material, news, political reforms, and fraud alerts that are happening. You can register with your email or phone number. Attention!: The act of registering on Contratados.org does not mean that the companies that show up on the page are going to contact you to offer you employment or a work visa.
What can you find on Contatados?
The page has four sections; 1) Search for an employer or recruiter, 2) Write a review, 3) Learn about my rights, and 4) Check the latest news.
In the first section you can search for an employer, recruiter, or recruitment agency and read about them. Here you will find the reviews or comments that other workers have written about the experience they have had with an employer, recruiter or recruitment agency.
In the second section: Write a review! You can leave your review or comment about any of these actors. Remember that the reviews and comments are anonymous, so you don't need to leave your name or personal information.
In the third section, you can learn about your rights as a migrant worker. Here you can find: Information about J-1 visas; learn about and know your rights as a worker with an H-2A or H-2B visa or a TN visa; frequently asked questions and recommendations. Select the option that is most relevant to your situation and learn with us through audio clips and brochures in the form of comics.
In the fourth section you can find the latest news. In this section we publish information related to and of interest to migrant workers, for example: trips and activities in the communities of origin of workers, changes in migration laws, among others.
Additionally, on Contratados you can find a resources section, where you can find contact numbers of our offices to communicate with our team in case you need legal services, contact information of government agencies or organizations in Mexico or the United States that can help you depending on the situation in which you find yourself: questions about recruitment or salaries, dangerous working conditions, discrimination and sexual harassment, retaliation or human trafficking.
REMEMBER!
Contratados.org is not a registry of companies, so you don't need to leave your personal information on the profiles of every company, recruitment agency or recruiter, since it is very likely that these actors don't see these comments, thus, they are not going to contact you to offer you employment. Do not leave your personal information or contact information in the comments.

The reviews are anonymous, but this doesn't mean that you should leave insults about a recruiter, employer, or recruitment agency. These comments can be removed to respect the conditions of use of the page.
Friend, now that you know the function of Contratados.org, a site created for you, help it to continue growing with your contributions and reviews. Use it, recommend it and share it with your contacts.