October 27, 2016
Guest Blog: The Affordable Care Act and H2A Workers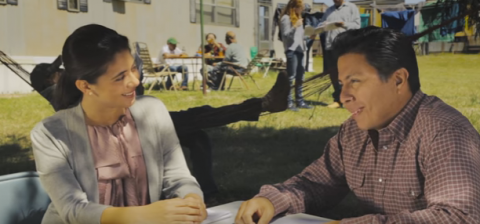 By the Farm Worker Unit at Legal Aid of North Carolina
If you are an H-2A worker, and you love telenovelas, we recommend that you watch Two Choices, One Path, an educational video where an H-2A worker learns the importance of having health insurance in the United States (click here to watch the video).
As the outreach worker says in the video, an unexpected accident or illness can happen to anyone, so having health insurance is very important. Also, under the Affordable Care Act, some H-2A workers might be required to have health insurance. If they do not get it, they might have to pay a fine.
What is the Affordable Care Act?
The Affordable Care Act is a law that requires most people, including some H2A workers, to enroll in a healthcare plan on their own or through their employer.
However, the government is aware that healthcare costs can be high. Part of the law states that people who earn a certain annual income can qualify to receive a government subsidy, which makes having health insurance and visiting the doctor more affordable.
What are the benefits to having a medical plan?
1. You can monitor your health through regular, preventative examinations or receive treatment for chronic conditions.
2. Health insurance can save you a lot of money if you have an accident outside of work, get sick and need to go to the doctor, or need to purchase medicine.
3. You will not be fined.
If I am an H-2A worker, how do I know if I am required to enroll?
To subscribe to a medical plan, you should contact an expert, known as a Navigator, to help you through the process. Using your annual income and family size, they can determine if you are required to enroll in a medical plan. There is no one-size-fits-all way to determine this; each person presents a unique situation.
How soon after I arrive do I need to contact a Navigator?
The law states you have up to 60 days from the time you arrive in the United States to enroll in a health insurance plan.
How do I contact a Navigator?
If you live in North Carolina, call 919-346-3135, to get a referral to a navigator in your area. If you live in another state, call the Marketplace at 1-800-318-2596 to talk to a Navigator over the phone.
What happens if I am required to enroll but I don't?
If you do not enroll in health insurance and you are required to by law, you will owe a fine. The amount of this fine changes every year. For 2015, it is either $695 for an adult, or 2.5% of your annual income, whichever is higher.
Any fine that you owe will be deducted from your taxes, or should be paid directly to the Internal Revenue Service. Under no circumstance should you pay an accountant for a fine.
If I decided not to enroll, how can I access Health care services?
In the United States, if an individual has a medical emergency they can call 9-11 and receive medical attention at a hospital regardless of whether or not they have medical insurance. The difference, however, will be in the bill.
If you liked the video or article, and feel like others could benefit from this information, please share it with your friends!
The views expressed in this publication are those of the Farm Worker Unit at Legal Aid of North Carolina and do not necessarily reflect the views of Contratados.org or Centro de los Derechos del Migrante, Inc.