July 8, 2020
I got tested for COVID-19 and here's why I recommend it to everyone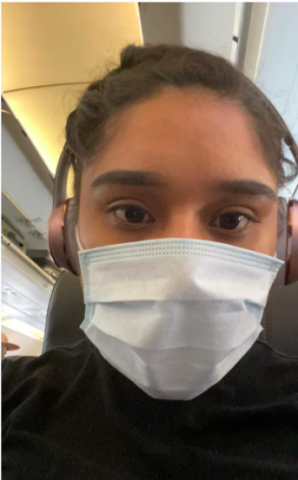 Guest Blog by Maria Perales Sánchez
Health experts are in consensus: the more folks that get tested, the better the chances are at reducing transmission of COVID-19.
From my personal experience, I thought that getting tested in the U.S. was quite difficult and was only available for people with severe symptoms. In March, doctors refused to test my dad for COVID-19 despite him showing most of the symptoms. Many websites said tests were only for folks who at least had a fever. I have also heard others voice fears that testing is uncomfortable and can expose people to additional risk.
It seems that a lot has changed. Testing has and is continuing to expand. Even better, in many places like the location I visited in Houston, it is completely free of charge.

A couple of weeks ago, I decided to get tested. I didn't have any symptoms - no fever, no cough, no shortness of breath. However, I had recently traveled and been exposed to other people. I flew on an airplane and took care to wear my mask at all times. But since I was going to be in close contact with other people, including my father, who is in his late 50s, and my younger nephew, I wanted to reduce any and all risks of putting them in any danger.
Living with my loved ones and the growing accessibility of tests made it a simple choice for me: get tested!
After looking up clinics in my county online, I was quickly assigned an appointment. The next morning, I went to a drive-through testing site with my windows closed for the majority of the process. I had little to almost no contact with anyone except the nurse, who put the nose swab testing kit in a box and left it for me to grab. Direct physical contact? None at all! The nose swab was painless and self-administered. In all, the process took about a couple of hours or less. Best of all, the test was free!
While drive-through testing sites require access to a car, some clinics offer help with arranging a driver. Others are also implementing car-share programs for folks to be driven to testing sites. Some health clinics are offering tests through mobile clinics.
The drive-through COVID-19 testing site where I got tested.
There is still so much more to do in terms of making covid-19 testing accessible to all communities-- not everyone has access to cars, and signs were only in Spanish and English. However, I was pleasantly surprised by how easy it was to schedule an appointment, that it was low-risk, painless, and free.
How does immigration status affect COVID-19 testing or treatment?
While requirements may vary from clinic to clinic, I did not need to provide any information about my immigration status at any point during the process. In fact, the U.S. government is actively encouraging everyone, regardless of immigration status, to seek testing. The government has also declared that accessing COVID-19 medical services will not affect Public Charge analysis for noncitizens' applications for U.S. permanent residency.
It's increasingly easy to get tested all around the United States, regardless of immigration status. While testing services and requirements may vary, here are some helpful resources for finding COVID-19 testing in your area:
For more information or assistance, you can contact Centro de los Derechos del Migrante at:
Toll-free from anywhere in the U.S.: 1.855.234.9699
Toll-free from within Mexico: 800 590 1773
Email: contratados@cdmigrante.org
Facebook: facebook.com/contratados.org