November 20, 2019
Latina Equal Pay Day 2019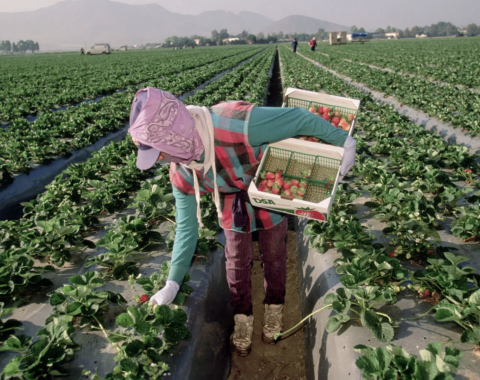 Did you know that Latina women have to work an average of 23 months to earn the same as a white, non-Hispanic man earns in a year? The wage gap that exists by gender unfairly limits the potential of Latinas and the success of their jobs and their lives. Today, on November 20, Latina Equal Pay Day is a symbolic day to indicate when Latinas' earnings "reach" the salary of the white men they generated the previous year. Today, we collaborate with the Alianza Nacional de Campesinas to illuminate how peasant women live discrimination in their workplaces, and what they are doing to combat it.
Same Work, Unequal Pay
"When I worked as a supervisor in the field, I was the only woman among other male supervisors. Although we did the same, I earned less than them. For being a woman, I paid less. They earned $3-4 more per hour. "This was the experience of Elvira Carvajal, who worked in the field from the age of 8. Currently, she is an organizer with the Alliance in Florida, where she works to make visible the working conditions of rural women and advocates for their rights. Peasant women represent at least 28% of the agricultural labor force in the United States. Throughout history, the peasant population is one of the most exploited groups in this country. Women in the fields often receive the least desired and least paid jobs, are the first to be laid off, receive fewer opportunities to move forward, and face a culture of discrimination and machismo in the workplace.
Fewer Opportunities Equals Less Pay

Marisol Saucedo, an employee of the Alliance in Homestead, Florida, notes that women often have fewer opportunities than men, which has a cost. "In the countryside, women work alongside men. But they still assign certain jobs to men. For example, driving the tractor, assembling houses, or doing heavy work is 'for men,' and those jobs earn more. " Teresa Arredondo, who currently works with Alianza in California, knows well what it is to face, and overcome, these obstacles. "I worked in the field for 25 years and there was never a female steward or supervisor," he says. "The owner said that women could not do it. "What if I show different?" I asked. I dedicated myself to do everything the supervisors did, running everywhere, driving the tractor. "Did I do it or not?" I asked the owner at the end of the season. And for next year he invited me to be a supervisor. " Tere's struggle was long, and she even had to prove her skills as a supervisor unpaid. Now, Tere is dedicated to communicating the struggles and achievements of rural women as a spokeswoman on the radio, on social media, and beyond. "I say this to show that the prejudices that companies have against women are useless to hinder us and thus impede our contributions. We women have shown that we do the same as men, and even better. ' In addition to low wages and lack of job security, farmworkers are not protected by United States labor laws guaranteed to workers in other industries. For example, most agricultural workers do not receive overtime pay, nor do they receive sick or maternity leave. Agricultural workers are excluded from protection under the National Labor Relations Act, an important tool that could help close the wage gap by offering protection to these workers.
Double the Load for Working Women
In addition, the members of Alianza point out that the struggle for equal pay for Latino women extends beyond the workplace. In this sense, they face the same reality that many women face in other industries around the world. "We play an extra role as head of the family, which nobody pays us for," says Teresa Arredondo. "Women's work is 24 hours," agrees Blanca Flores, an organizer for Alliance in Bakersfield, California. "' You have to value it. Because the work of caring for our families, our patients, falls on women, in an unpaid manner. Equal payment must also recognize that work." "Although women do the same job as men, they also have to do much more tasks than men - at work and outside - in an unpaid way," summarizes Claudia González, who works at The Florida Peasant Association (The Farmworker Association of Florida, "FWAF") is co-coordinator of the Alliance Labor Rights Team.
What Can Be Done?
Following the example of the women of Alianza it is time to value the work - all the jobs - carried out by farmworker women. This means that women should receive equal pay, access to opportunities to advance, and equal protection under the law. It also means valuing the full range of jobs that women do outside of work, for example, by distributing household chores among family members, extending the right to take sick leave and maternity leave, and through the promotion of public services that contribute to its success. Do you want to learn more? Follow the social media conversation in the hashtags #latinaequalpay #workers #campesinas and #mujeresmigrantes!