May 7, 2014
Updated Manual Helps Mexico-Based Workers Receive Due Compensation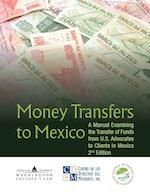 Today, American University Washington College of Law, Centro de los Derechos del Migrante (CDM), and Global Workers Justice Alliance release the second edition of Money Transfers to Mexico, a manual designed to help migrant worker advocates navigate the transfer of funds to their clients in Mexico. When workers from Mexico win settlement funds in U.S. lawsuits challenging wage theft, discrimination, or human trafficking, advocates face the difficulty of ensuring that their clients receive the money once they have returned to Mexico. Differences in banking in the U.S. and Mexico, increased global security concerns, and professional ethics considerations create significant hurdles in getting workers the funds they are owed.
Read the full Money Manual here.
The transfer methods included in Money Transfers to Mexico have facilitated the transfer of millions of dollars in funds awarded to workers by courts, administrative agencies and pursuant to settlement agreements. One woman, whose husband was killed on the job in 2010, filed suit, and through an innovative funds transfer mechanism, she received the much-needed compensation she was owed. The funds have allowed her to pay for her son's education. In a major class action settlement, over 450 former guestworkers who had returned to Mexico received individual settlement payments through this funds transfer mechanism. The new edition of the money manual, released electronically and available at the links below, provides updated information, including concrete tips and examples, to help advocates to send settlement funds to their clients in Mexico and facilitate justice across borders.