June 27, 2019
What To Do During an Immigration Raid -- New Threat of ICE Arrests and Massive Deportations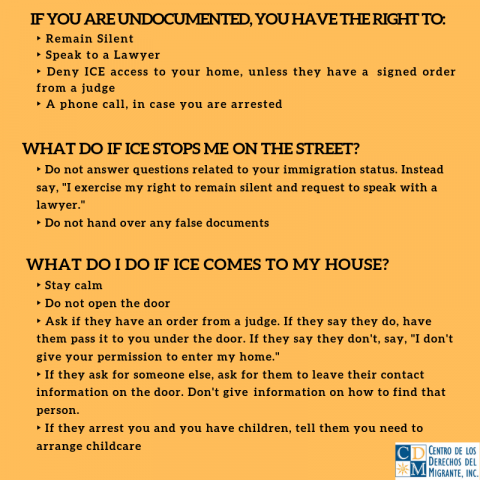 Last week, President Donald Trump announced that ICE will conduct raids to detain undocumented immigrants and deport them. On June 17, Trump said that immigration agents plan to make mass arrests starting this week. To read the full statement, click here.
"ICE will begin the process of removing the millions of illegal aliens who have unlawfully entered the United States," Trump wrote.
Given this, it is important that undocumented people know they have rights, such as:
- Remain Silent
- Speak with a lawyer
- Deny access to your home unless ICE has a court order signed by a judge.
- In case of an arrest, make a call.
What do I do if ICE stops me on the street or at my work?
- Do not answer questions about your immigration status. Say: "I exercise my right to remain silent and I want to talk to a lawyer."
- Don't hand over false documents.
What do I do if ICE arrives at my house?
- Keep calm
- Do not open the door.
- Ask them if they have a court order. If they have it, have them pass it under the door. If not, say: "I do not authorize you to enter my house."
- If they ask for another person, ask them to leave their contact information at the door. Do not give information on how to find that person.
- If you are arrested and have children, tell them you have to coordinate child car
For more information about your rights, check out: https://contratados.org/en/content/como-protegerte-durante-redadas-de-inmigracion
https://www.aclu.org/issues/immigrants-rights/ice-and-border-patrol-abuses/we-have-rights