December 22, 2014
As a worker with an H-2A or H-2B visa, you have the right to health insurance in the United States!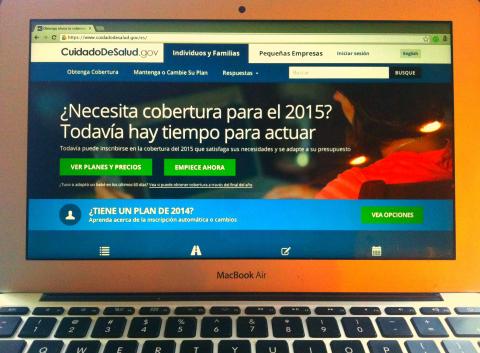 The Affordable Care Act (ACA) took effect in the United States in early 2014. The ACA has expanded access to health insurance for millions of people in the United States, who can now visit the doctor and even the emergency room without having to pay exorbitant fees.
Last week on a program from the series "Voy Contratado: Migrant Rights on Radio," Samuel Orozco of Radio Bilingüe spoke about this issue with Virginia Ruiz, Director of Occupational and Environmental Health at Farmworker Justice, and Melissa Torres, Enrollment Supervisor at Greene County Health Care. The guests spoke about the importance of health insurance for workers with temporary visas and explained the enrollment process. Listen to the show here.
People who travel to the United States with temporary H-2A and H-2B work visas have the right to enroll in low-cost health insurance under the ACA. If you plan to work with an H-2A or H-2B visa, you should know that:
1. Health care can be very expensive in the United States—and health insurance lowers costs considerably. Health insurance is a contract between an individual and a private company that helps pay for his or her medical expenses. You never know when you are going to get sick or have an accident. Without insurance, one injury could cost you thousands of dollars in the United States.
2. If you stay in the United States with an H-2A or H-2B visa for more than three months, you are required to enroll in a health insurance program. When you arrive in the U.S., you will have 60 days to start the enrollment process—though it is recommended that you begin as soon as possible. If you do not enroll, you could pay a fine when you file your tax returns. These fines can be more expensive than insurance itself.
3. As an H-2A or H-2B worker, you can qualify for federal subsidies that lower the costs of health insurance and medical services significantly. According to Melissa Torres, H-2 workers can pay between $0 and $100 USD per month for insurance, depending on their income and the insurance plan they choose. A good plan can cost as little as $20 USD per month.
4. Even if you have health insurance, your employer is responsible for paying your medical expenses if you get sick or are injured at work. Your insurance is for expenses that you incur when you get sick or hurt outside of work, for example, if you catch the flu or are in a car accident. It can also be used towards treatment for preexisting conditions such as diabetes.
5. There are organizations that can help you with the enrollment process. Community clinics and health centers exist around the country that can help you enroll in insurance and provide health care services. You can also call 1-800-318-2596 to speak with a specialist, or visit http://healthcare.gov.
Your health is important. Protect it!