June 18, 2015
Take action to strengthen migrant workers' rights!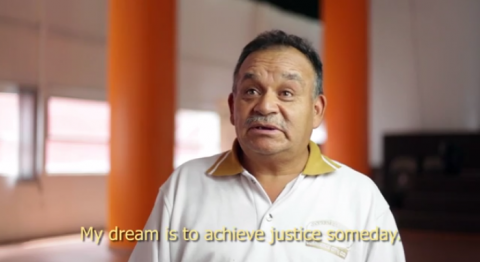 Each year up to 66,000 people, most of them from Mexico, travel to the United States with H-2B visas to work in landscaping, seafood processing, fairs and carnivals, and other non-agricultural industries. They do grueling work for low wages and play a key role in the United States' economy.
Since the beginning of the H-2B program the U.S. government has offered few worker protections to migrant workers. In this vacuum of protections, thousands of workers have experienced fraud in the labor recruitment process, have become indebted to acquire their U.S. jobs, and have been pressured to work under exploitative conditions. A May 2015 study by the Economic Policy Institute found that H-2B workers' wages and working conditions are on par with those of undocumented workers, and that both groups earn significantly less than legal permanent residents.
Now, YOU have the opportunity to help strengthen the rights of H-2B workers. In April 2015, the U.S. Departments of Labor and Homeland Security published new rules for the H-2B program which contain new, crucial labor protections. Though the rules are currently in effect, they have yet to be finalized and are subject to change. The U.S. government will accept public comments about the about the rules until June 29th, 2015.
It is critical that the government hear the voices of people who support protections for migrant workers. Submit a public comment TODAY and ask the government to preserve labor protections in the final rule for the H-2B program!
How to submit a comment:
Step 1: Visit the U.S. Federal Government's Regulations website.
Step 2: Copy the text of the Model Comment below and paste into the box labeled "Comment." Feel free to add to or edit the comment!
Step 3: Fill in your First Name and Last Name.
Step 4: Click "Continue."
Step 5: Review your comment. When you are satisfied, click "Submit Comment."
Model Comment:
Jeh Charles Johnson, Secretary of Homeland Security
Department of Homeland Security
20 Massachusetts Avenue, NW
Washington, DC 20529–2060
Thomas Perez, Secretary of Labor
U.S. Department of Labor
200 Constitution Avenue, NW
Washington, DC 20210
June 2015
Re: Comments to Interim Final Rule, Temporary Non-Agricultural Employment of H-2B Aliens in the United States. Regulatory Information Number (RIN) 1205–AB76.
Dear Secretaries Perez and Johnson:
I am writing to express my support for the crucial worker protections included in the H-2B Interim Final Rule published on April 29th, 2015. As illustrated by recent U.S. Government Accountability Office and the Economic Policy Institute reports, H-2B visa holders are some of the most vulnerable workers in the United States, and they need the government on their side. I applaud your agencies for including basic worker protections in the Interim Final Rule, and encourage you to maintain these protections in the final rule. Key protections include:
· Terms of Employment. Workers have a right to information regarding the terms of their employment in a language they understand. Having access to such information will enable workers to stand up for their rights and avoid the false promises of recruiters and traffickers.
· Reimbursement of Visa and Transportation Costs and Prohibition of Recruitment Fees. Workers have a right to employment free from the debt bondage and economic coercion that leave them vulnerable to trafficking and other abuses, both in the recruitment process and in the workplace. Banning fees and reimbursing costs are fundamental to a work experience free of economic coercion.
· Three-Fourths Guarantee. Workers deserve this basic guarantee of three-fourths of the promised hours of work. This basic protection will prevent workers from falling further into debt while paying for lodging and food in the United States. Workers come on H-2B visas to work, not to sit on the sidelines.
· Prohibition on Retaliation. Workers have a right to complain about unfair working conditions without fear of retaliatory firing, abuses, or deportation. This prohibition is a critical first step in bringing vulnerable workers out of the shadows so that they can stand up for their rights.
Thank you for the steps you have taken to ensure that all workers in the United States enjoy basic labor rights. I ask that you please preserve the basic protections included in the H-2B Interim Final Rule.
Sincerely,
[YOUR NAME]