July 22, 2019
ALERT: PROTECT YOURSELF FROM HEAT STROKE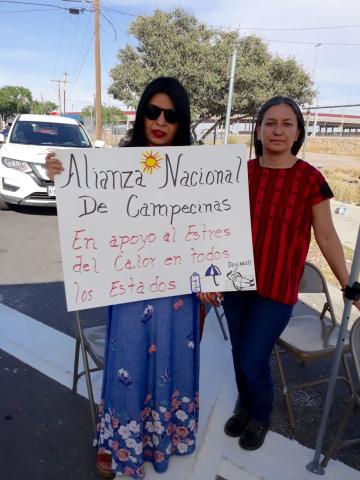 Photo: Members of Alianza Nacional de Campesinas organize an action on heat stress in El Paso, Texas in July 2019. Credit: Alianza Nacional de Campesinas.
A potentially deadly heat wave is sweeping across the United States this week. Dangerously high temperatures are being reported in various states across the country, from New York to Colorado. In these states, temperatures are rising above 100 degrees Fahrenheit or 38 degrees Centigrade. Now, more than ever, it's urgent that everyone, but especially those who work outdoors or in greenhouses, know how to protect themselves against heat-related illnesses.
Blanca Florez, a farmworker, has first-hand experience with extreme heat. She remembers being at work in a chile field in Bakersfield, California, when she began to feel gravely ill - her vision became blurry, her mouth dried out, she felt dizzy and began to vomit. Blanca had to complain repeatedly to her supervisor until he finally allowed her to go home to rest. It wasn't until later, when Blanca learned more about her rights, that she realized that employers in the United States are required to care for workers who become sick on the job.

Foto: Members of Alianza Nacional de Campesinas organize an action on heat stress in El Paso, Texas in July 2019. 
Credit: Alianza Nacional de Campesinas.
Today, Blanca es an organizer with
Alianza Nacional de Campesinas
, a national organization created by and for farmworker women and which is dedicated to advancing farmworker women's human rights. Daily, Blanca and her coworkers train farmworkers across the country about their labor rights.
Why should we be worried?
High temperatures combined with humidity is dangerous for your health. Normally, our bodies cool down themselves when we sweat. But when there is high humidity, sweat doesn't evaporate as quickly. When this happens, the body temperature can rise quickly and become at risk for heat stroke.
What are the symptoms of heat stroke?
If you experience a high body temperature above 103 degrees F (35 degrees C); hot, red, dry skin with no sweat; a strong, rapid pulse; throbbing headache, blurry vision, dizziness, nausea, confusion and shortness of breath, you should immediately stop what you are doing and find a cool, shady place.
What can we do to prevent heat stroke?
Elvira Carvajal, who also organizes with Alianza Nacional de Campesinas, began to work in the fields when she was just 8 years old. For years, she has dedicated herself to training farmworkers in Florida about preventing heat stroke.
"Many people already know that it's important to stay constantly hydrated and to rest in the shade," she says. "But it's also important to use appropriate clothing - for example, a long-sleeved, light-colored, loose cotton shirt is best. A wide-brimmed hat will give you shade and keep your head cool. You can also place a wet bandana around your neck to cool yourself off a little. Sometimes it is better to drink rehydration drinks to replace the salts and minerals your body loses from sweating a lot."
Get help!
Tell your supervisor or call emergency services (911) immediately if your coworker is suffering from heat stroke symptoms. While awaiting medical attention, place her in the shade where there is fresh air; loosen her clothing and remove any outer clothing; try to get a fan and apply cold compresses or ice to her underarms; give her liquids like water and rehydration fluid as soon as possible.
Defend your rights!
Mily Treviño-Sauceda, Executive Director of Alianza Nacional de Campesinas, advises all workers to learn about the protections they have under the law. "In many cases, if a worker gets hurt on the job, the employer has to provide him or her with medical attention," she says.
According to
OSHA
, the agency responsible for ensuring workplace health and safety, employers have the responsibility to protect workers against extreme heat.
Workers also have the right to report dangerous working conditions by calling OSHA at 1-800-321-6742.