November 23, 2021
Children age 5 and older can be vaccinated against COVID-19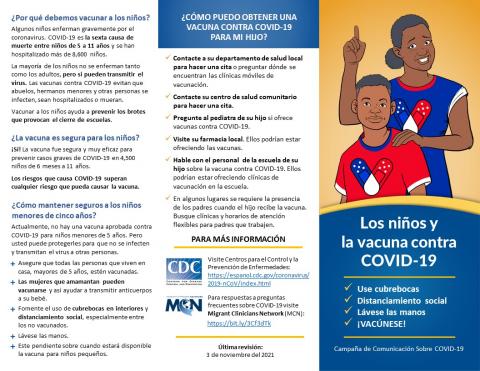 On October 29th, the Food and Drug Administration (FDA) granted Pfizer authorization for use of the COVID-19 vaccine in children between the ages of 5 and 11. This decision is in addition to that of last May, when the FDA authorized the use of Pfizer for children and adolescents between 12 and 15 years of age.
Early data shows that vaccines help prevent people from spreading COVID-19 to others and also help prevent minors from serious illness. Although the number of children infected by COVID-19 is lower than that of adults, they can still become infected by the virus, get sick and spread it to other people.
If you live with someone who is five years old or older, help them get vaccinated against COVID-19 as soon as possible.
COVID-19 vaccines are safe and effective.

COVID-19 vaccines are administered under the strictest safety regulations in the history of the United States, including studies on children and adolescents.

The vaccines are made of the same components, however people between 5 and 11 years old receive a lower dose -- only a third of that applied to adolescents and adults.

People 12 years old and above should receive a second dose of the Pfizer COVID-19 vaccine 3 weeks after the first dose.

People older than 12 can receive the COVID-19 vaccine and other vaccines, like that of the flu, in the same appointment without waiting for 14 days between each.
Side effects of the vaccine against COVID-19 in children:
Fever

Headache

Muscular pain

Nausea

Arm pain near where the vaccine was applied

Fatigue
You can find resources about this topic here.
What are you waiting for? Protect the youngest people in your family and community.
Visit vaccines.gov to find a COVID-19 vaccination site close to where you live.