January 8, 2019
Justice Along the Way: Eusebia Herrera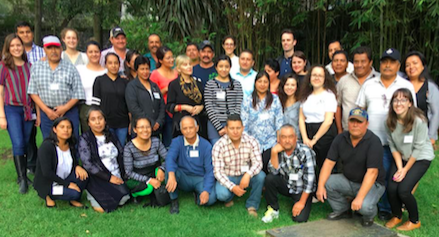 "We have to educate ourselves continually and in different ways, because that helps us grow," says Eusebia Herrera. "As part of the Comité, I feel like I'm doing my bit to help people, little by little."
Eusebia firmly believes that education, especially that obtained by listening to other people, serves to have a balance in life. That is why being part of the Migrant Defense Committee (Comité) at Centro de los Derechos del Migrante, Inc. (CDM) renews her strength to keep fighting.
As one of the most recent members of the Migrant Defense Committee, Eusebia joined the fight for migrant justice when the CDM team gave a workshop in her community, Ejido Palomas, in Ciudad del Maíz, San Luis Potosí.
Eusebia has been learning about the characteristics of the J-1 and H-2 visas, mainly the information that one must know to avoid fraud: the name of the company, the type of job and other terms of employment when recruiters offer work.
"I've seen enough cases of fraud to say enough! I'm tired of seeing these situations."
Eusebia worked as a nanny in the United States. She became interested in migrant workers' rights because she wants to empower her community in the face of abuse; that's why she likes to talk about recruitment fraud and how to prevent it.
For example, one acquaintance told her that her son had to pay an intermediary an extra 1500 dollars when he arrived in the United States in exchange for a job; Eusebia told them that recruitment fees are illegal.
"Nobody likes it when fraud comes into our homes -- there are signs we can look for to detect and prevent fraud. We must help generations to come."
-------
This is the third article in the series Justice Along the Way, where worker leaders speak about their experiences in the US and their impact on their communities.