May 23, 2019
Major win: NY Farmworkers Win the Right to Organize!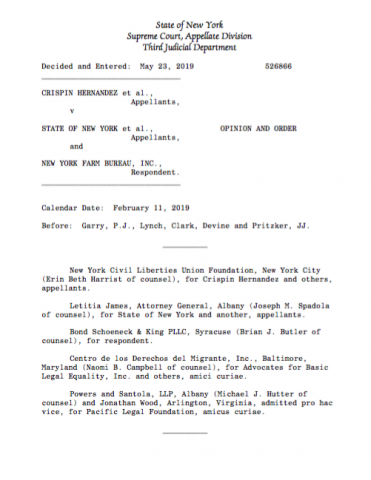 Join us in celebrating a huge legal victory for farmworkers!
The right to organize allows workers to improve their working conditions.
But for years, farmworkers in NY have been denied that right. They have been denied the right to unionize and to join with their colleagues to collectively address deplorable working conditions, including unfair wages, unsafe housing and labor trafficking. This exclusion of farmworkers from basic protections has its roots in racism against African American farmworkers.
For farmworkers in NY, this stops today.
In a groundbreaking decision this morning, the New York State Supreme Court ruled that excluding farmworkers from the right to organize is unconstitutional. In 2016, farmworker Crispin Hernandez, the Workers' Center of Central New York and the Worker Justice Center of New York sued the state, arguing that this exclusion violates the state Constitution, which grants employees the fundamental right to organize and bargain collectively. Congratulations to then and to our allies at New York Civil Liberties Union, who represented the plaintiffs!
Last Fall, Centro de los Derechos del Migrante (CDM) and nine allied organizations,filed a friend-of-the-court brief supporting the plaintiffs detailing how the exclusion worsens farmworkers' already exploitative working conditions and promotes retaliation. By placing worker voices at the center of this brief, we sought to open judges' eyes: their decision would profoundly impact the lives of tens of thousands of men and women who plant, harvest and process the food they eat every day.
The right to organize is fundamental to address severe power imbalances in working relationships, especially for low-wage workers. Until today, farmworkers in New York could not so much as speak to their employer or to fellow farmworkers about many labor injustices without risking their jobs. Collective bargaining builds power among workers.
This is a big win for workers in New York. But farmworkers across the US are still excluded from the most basic rights that the vast majority of workers enjoy including overtime and the right to organize. Today's victory underlines the power of workers' voices and renews our commitment to fight for justice under the law.