January 23, 2018
Migrant Worker Women Hold US Accountable for Violating Obligations under Trade Agreement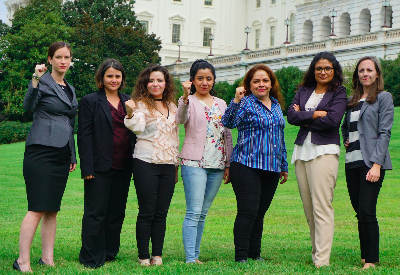 Two migrant worker women, members of the Migrant Defense Committee, together with nongovernmental organizations took the next step in holding the United States government accountable for violating its obligations under the North American Free Trade Agreement (NAFTA).
The group submitted a supplement to a petition filed in July 2016, arguing that the US took inadequate action to combat sex-based discrimination in recruitment, hiring, and employment practices within its H-2 temporary visa programs. It's been 556 days, and the co-petitioners continue to wait for justice; the petition remains under review by the Mexican National Administrative Office, and no response has been issued.
"As a woman, recruiters systematically excluded me from jobs that were offered to men," said Adareli Ponce Hernandez, a migrant worker woman and co-petitioner, who testified at the U.S. Trade Representative's hearing on NAFTA in June 2017. "Our petition explains how the United States failed to meet its commitment to eliminate employment discrimination, and we continue to wait for justice."
The supplement includes Engendering Exploitation: Gender Inequality in U.S. Labor Migration Programs, a report highlighting the continued discrimination and abuse women across guestworker programs confront in their recruitment and employment in the United States.