October 19, 2020
Salary theft against agricultural workers reaches millions of dollars each year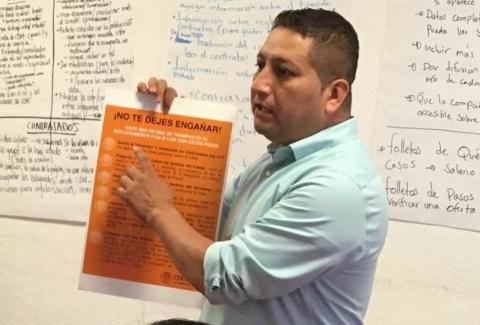 The consulates have an employment verification service for temporary workers with H-2A visas, by means of telephone line, and recently, by means of WhatsApp using the number 800-108-4724, or also by email at visasmtr@state.gov.
If you are a worker that is processing a H-2 visa, you should know that the consulate does NOT have the ability to require that any Mexican individual has an appointment to process the visa, nor place anyone on a "black list" or report you to immigration. The consulate also does not charge fines for not attending an appointment during the recruitment process. If the person that is recruiting you tells you otherwise, they are lying to you.
No one, including the recruiter, can require you to visit or forcefully make you visit a consulate for a supposed visa processing meeting, or solicit documents of your belongings like the deed or paperwork to your house, car, land, etc. It is very important that you do not give out any type of your or your family's personal information.
We remind you that if you are a H-2 worker:
The only consulates that process visas are the consulates in: Tijuana, Monterrey, Matamoros, Nuevo Laredo, Hermosillo, Nogales and Ciudad Juarez.

Recruitment processes are completely free of charge and do not require professional studies or additional fees.

You can decide when to start the recruitment process and with whom. No one can obligate you to do anything against your will.
To learn more about the different services and processes that the consulate carries out, you can consult their official web page, where you will find a variety of informative brochures. You can also consult their official Facebook.
If you have any doubts, you can call Centro de los Derechos del Migrante, Inc. from Mexico at 8005901773, from the United States at 8552349699, to be attended to in Mixteco you can call 9535540517. The calls are free and the information is confidential.
Be informed! Stay safe! Defend, demand, and protect your rights!