November 20, 2019
A Vision for Equal Pay: Maryland J-1 SWT Worker Shares Her Story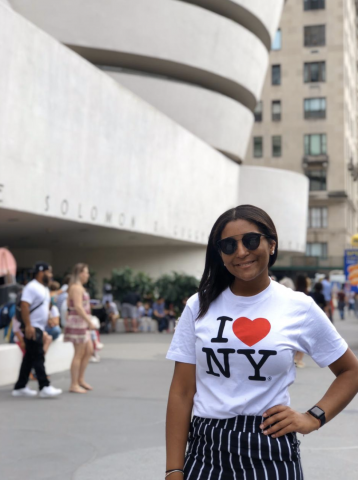 Today, Latina Equal Pay Day -- the day when Latina pay catches up to that of white, non-Hispanic men from the previous year, Latinas and allies are uniting across to demand #LatinaEqualPay. Pay disparities hurt Latina women, their families, and communities. Across the United States, Latinas face a grave wage gap -- earning only 54 cents for every dollar earned by white, non-Hispanic men. Latina migrant workers face discrimination from the moment they are recruited and channeled into lower-paying jobs -- and they are speaking out. This summer, Laura Ferrer, a 21-year-old migrant worker from the Dominican Republic worked in a variety of jobs -- hostess, playground attendant, and grocery stocker-- in Maryland's Ocean City under the J-1 Summer Work Travel program. She's sharing her story facing discrimination and her vision for #LatinaEqualPay with us.
What does equal pay mean to you?
Inclusion -- it means inclusion. Normally, we are treated as if we were different. Equal pay would mean inclusion to a nation (the U.S.), even if we aren't from that nation.
How has the disparity in pay impacted your experience working as a J-1 in the U.S.?
It wasn't so much a difference in pay as it was the hours allotted to men. Men were given more hours, which allowed them to make more money. Positions that women were capable of doing and paid more were often assigned solely men-- such as dishwasher. Administrative positions available were more likely to be given to women, even though women are as carrying out those tasks.
Did you experience other forms of discrimination?
I observed a lot, and we need to break origin-based discrimination. They assumed that because of my Dominican nationality, I would be more disorganized or less diligent. The truth is that we were very responsible -- our own necessity [to make a living] forced us to. I also observed discrimination based on physical appearance, regardless of our capacity to carry out tasks. The program is rife with racism-- most of the host/server jobs were given to those that fit the U.S. standards of beauty--straight blonde hair, blue eyes. I was lucky that I spoke English and was able to get a job as a server, but often that doesn't matter as long as you look a certain way.
What changes and recommendations would you make to the J-1 program to improve these conditions?
I would encourage [employers] to judge us based on our potential and not our gender. They need to evaluate our capabilities.
What is your vision for equal pay?
I would love for equality and equity in pay be implemented across gender and beyond-- I would love to see equal pay across races, nationalities. Not only for Latinas to be equally but for everyone to be paid in fair wages.
--
Laura Ferrer is currently attending University in the Dominican Republic. She's a vocal advocate for equity and migrants' rights. Want to learn more? Read how farmworker women are organizing nationwide to combat this reality-- you can read their story here. You can also join the conversation on social media #LatinaEqualPay!